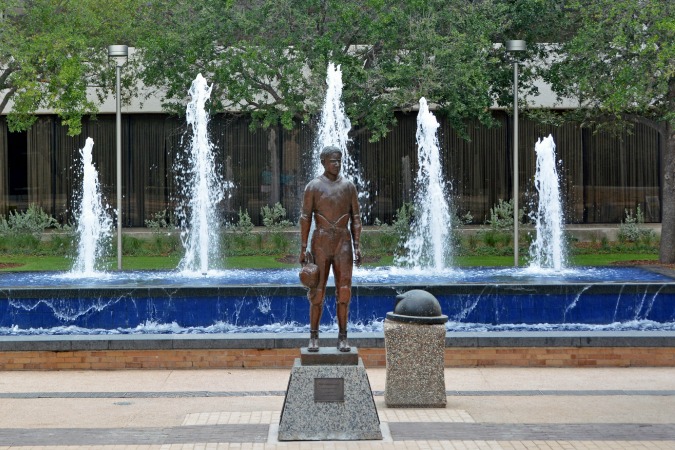 The Class of '80 E. King Gill Award was established in 2019 to honor the graduating senior who most exemplifies the core value of Selfless Service during the student's undergraduate career at Texas A&M University. One E. King Gill awardee is selected at Texas A&M each year. The award is presented at the LAUNCH recognition ceremony.
E. King Gill represents the quintessential Aggie—honorable, loyal, and willing to serve no matter how dire the circumstances seem.  While E. King Gill, the original Twelfth Man, is best remembered for his willingness to serve as a member of the football team in 1922, the statue of Dr. Gill given by the Class of 1980 has become a symbol of the Texas A&M University core value of Selfless Service for all Aggies.
Qualifications:
Have displayed to a high degree the core value of Selfless Service.
Have no academic, honor, or conduct violations. Scholastic probation earlier in a student's career will not be held against the student, provided the student has successfully completed the terms of probation.
Have completed not less than one-half of the nominee's degree requirements while enrolled at Texas A&M University.
Have performed service to improve the quality of life and promote the welfare of others (i.e., humanitarian/charitable causes) during the nominee's enrollment at Texas A&M University.  The service cannot be for political or religious purposes, although service can be performed through a religious organization.  Service is to be considered based on the nominee's efforts—not the overall effort of the organization associated with the service.
Be a candidate for a baccalaureate degree at the end of the spring semester or during the preceding fall or summer semesters.
Not be a recipient of the Brown Foundation-Earl Rudder Memorial Outstanding Student Award or the Robert Gates-Muller Family Outstanding Student Award or any similar university-wide award including other Core Value awards that may be created in the future.
The award will not be made posthumously nor to a selected student who fails to complete degree requirements.  In either of these eventualities, the next highest qualified nominee will be designated as the recipient of the award.